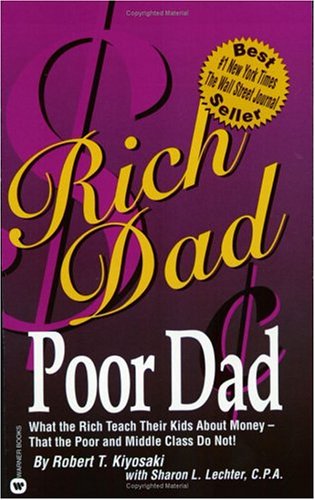 While this was the type of book I'd joke about buying Dad at the bookstore, very aptly describing the fluctuating income as he siblings came and left the home, I bit the bullet and decided to give it a read to see what all the fuss was about.
'Rich Dad Poor Dad' is by Robert Kiyosaki and Sharon Lechter and it details the highs and lows of business, investment and finance in a personable narrative through the eyes of a son with two father figures in his life- Rich Dad and Poor Dad.
Poor Dad is an educated man who has always viewed education as the key to success but seemingly lacks common sense. He represents the average man, so perplexed by the thought of financial instability that he plods along life taking safe routes and is often reluctant to act at opportune moments.
Rich Dad, on the other hand, only made it to the eighth grade yet proves himself to be more business-minded, often sacrificing the safe option for the smart option. Throughout the novel, the two fathers yearn for success traveling very different paths, allowing the reader to compare and scrutinize their attempts and realize their outcomes.
The son reflects on the valuable lessons that have taught him sensible approaches towards education, investing and measuring success by both Rich and Poor Dad. The novel draws on themes of financial intelligence as an important concept, allowing for clear distinctions between assets and liabilities.
This book was a big hit for me in making me realize personal obstacles that were preventing me from pocketing maximum wealth.  Fear, idleness, bad habits and skepticism are listed as factors that restrict a sturdy financial flow.
'Rich Dad Poor Dad' gave me a wealth of ideas and solid advice in better money handling skills. Through the book, I now have solid aspirations and firm goals and will get active about decision-making.
The book made me understand the importance of friendships and the power of influence in shaping my own decision-making.  I realized I am very luck to be surrounded by a like-minded network of friends with attributes that inspire me and often assist me in personal and financial advancement. Furthermore, the underlying and most poignant theme of all that struck a big chord with me was not to stop learning – be open to opportunities, stay up to date with world affairs and read newspapers. Ideas are everywhere!
Similar Posts